Case Study
Reverse engineering of mission critical gear drive restores production
During a routine customer visit, a sales representative for the Santa Fe Springs Service Center was called upon to help recondition a high-speed gear drive at a major refinery located in the West Coast Region. The old gearbox was attached to a compressor that was being used to pressurize and transport a feedstock that was the byproduct of the refining process. The repair was the result of a planned outage that was originally scheduled to fix a faulty compressor, but with no spares available and a noisy gearbox that was in service since 1960, plant personnel decided to include the gear drive as part of the overhaul project.
The gearbox was a mission-critical piece of equipment that helped the refinery to process hundreds of thousands of barrels of crude oil per day. The refinery is one of the largest and oldest in the region, and has thousands of miles of pipelines and several hundred large storage tanks that can hold millions of barrels of crude. Due to its size and production capacity, an unplanned outage for the plant would result in a loss of over $100,000 per hour, so the refinery required a guarantee that the project could be turned around within their scheduled outage – a two week window – which was four weeks shorter than the industry standard.
The unit was shipped to the West Coast Region's manufacturing and technical center in Santa Fe Springs, California. The team disassembled the unit and replaced all bearings, seals, thrust washers, lubrication components and hardware, as well as reconditioned the gearing and sandblasted and repainted the housing. The gears were refurbished by kiss grinding them on one of Santa Fe Spring's high-precision grinding machines, which removed a thin layer of material to restore the surface finish and reclaim the geometry of the gearing.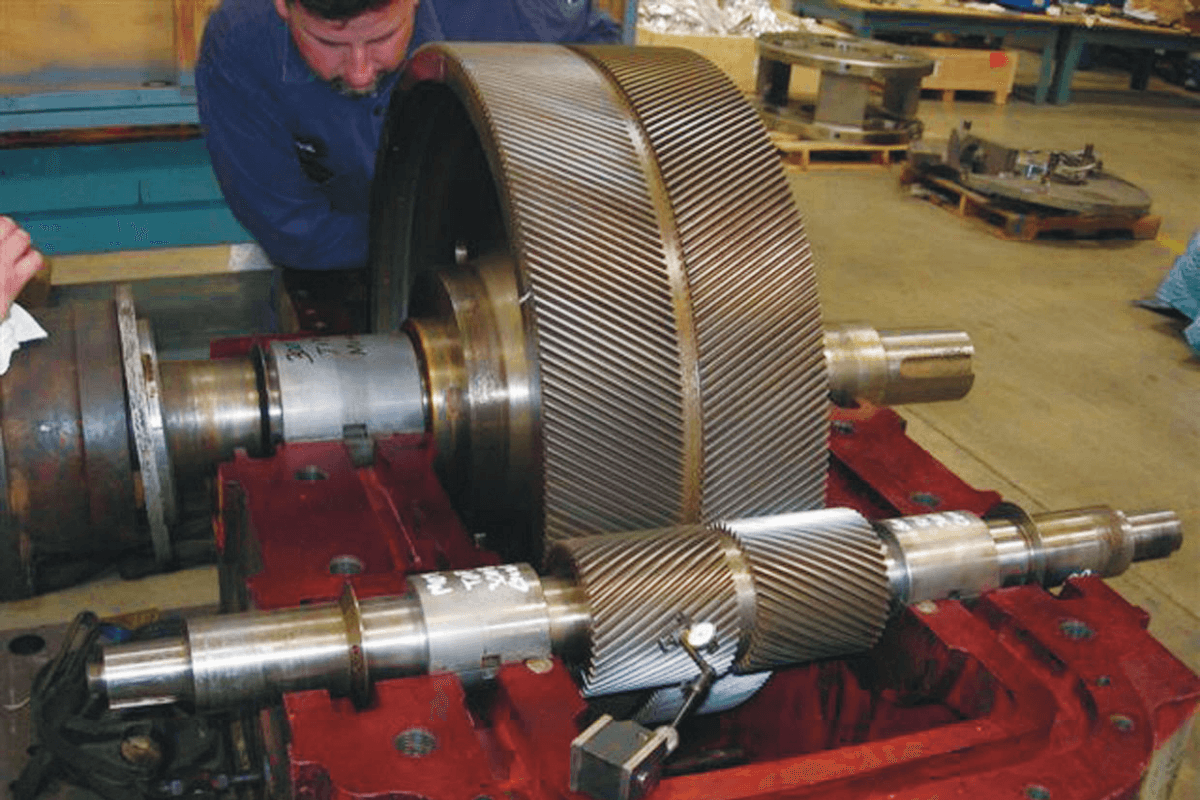 In addition, by leveraging the engineering expertise and reverse engineering capabilities of the West Coast Regional Service Center, the facility was able to manufacture auxiliary bearings, gearing, shafting and thrust washers for the refinery, giving them the ability to stock spares in the event of an emergency and have a regular supplier for parts they could no longer obtain from the original manufacturer.
Only two weeks after receiving the damaged gearbox, the West Coast RSC shipped the reconditioned drive including an inventory of spare parts to the customer, on-time. When the refinery installed the gearbox, they commented on how silently it ran. It turns out that the gears in the original drive ran so loudly that they built a sound isolation box to fit over the housing to contain the noise. Under full load, the repaired gearbox ran so quietly that they were able to remove the sound isolation box and reclaim the wasted floor space.