Case Study
Replacing a critical kiln's massive gear drive
The Primary Challenge
A leading U.S. limestone producer whose products are used in essential industrial processes and agricultural applications had challenges with one of its many rotary kilns. The kiln's girth gear and pinions were wearing out after 40 years of continuous operation and maintenance. Taking the kiln offline for repairs would lower production capacity by 20 percent and impact customer service, even during the COVID-19 pandemic, so keeping on schedule and on budget was crucial.
These types of kilns are used in a calcining process that 'cooks' limestone at high temperatures to create quicklime. The material in the kiln is mixed by rotation created by a single girth gear pinion drive that is driven by a gearbox and motor. The girth gear is mounted around the exterior of the kiln.
The pinion on a kiln is typically the weakest link, wearing out more quickly on one side because of continual rotation in the same direction. The customer frequently purchased new pinions as needed. Because the replacement pinions weren't manufactured as a pair with the girth gear, and weren't made to Philadelphia Gear's high technology standards, they failed even faster.
"The customer asked us for help because of our 130-year reputation for expertise in industrial gear systems," says Ted Pratt, territory account specialist for Philadelphia Gear, now part of Timken Power Systems. "Because the kiln had been purchased years ago as surplus, there were few engineering drawings or specifications to go on. Another challenge was the mammoth size of the kiln and girth gear, which measured 18.5 ft. in diameter. Not everyone has the capabilities to make something that large. They knew they could depend on us for our manufacturing capabilities and service."
The Solution
The new girth gear needed to accommodate a kiln that was 100 ft. long and 16 ft. in diameter, but was now out-of-round due to decades of wear, variation in operating temperatures and exposure to the elements. It was imperative that the new girth gear be manufactured to precise measurements that would allow for adjustments during onsite installation.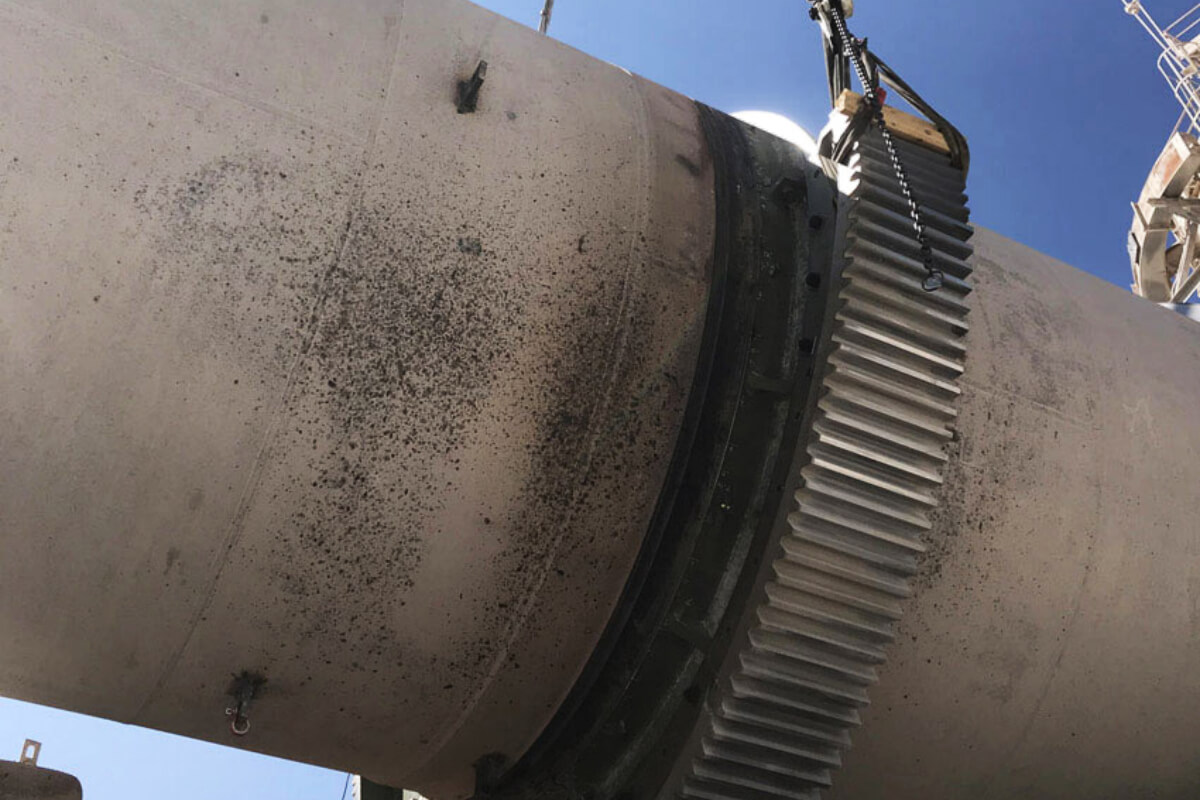 To provide a total solution, Philadelphia Gear collaborated with another Timken Power Systems (TPS) company, Standard Machine, to deliver the following:
Reverse engineering and precise engineering drawings based on measurements captured using high-end laser technology. Measurements of the existing girth gear and the flange mount ensured precision and accuracy in the gear tooth contact of the new girth gear.
Design enhancements to optimize the pitch of mated gears for more reliable performance and extended gear life.
Manufacturing of the girth gear from a single piece of high-quality U.S.-made steel to ensure quality and service life. TPS leveraged its reliable supply chain connections to get materials despite the pandemic. After manufacturing, the girth gear was precisely cut in half for transport.
Redesigned and manufactured mated pinions that can be flipped over and reused on the other side, extending component life up to 35 percent over the previous one-sided pinion design.
Yellow mesh safety system to encase the extended shaft and help prevent workplace injuries.
Onsite installation of the new girth gear and pinions. The team returned 40 days later for a final inspection and to make adjustments for optimal operation.
Installation was done over a one-month period. The old gears and mounting flange were removed, the new mounting flange was welded on, and two separate pieces of the girth gear were fitted together precisely around the kiln and secured by bolts to the flange. Using laser technology and dial indicators, the girth gear was centered on the kiln which had become oval over time – a fairly common occurrence.
"Our Onsite Technical Services millwrights made fine adjustments to the alignment by using shims and tightening jack screws to center it properly," Pratt says. "As part of our commitment to the customer, we returned with a full crew a month after installation. During that time bolts can loosen, welds will settle, and the alignment can be altered due to the high temperature. It's part of our original scope to check back to make sure that the job is done right."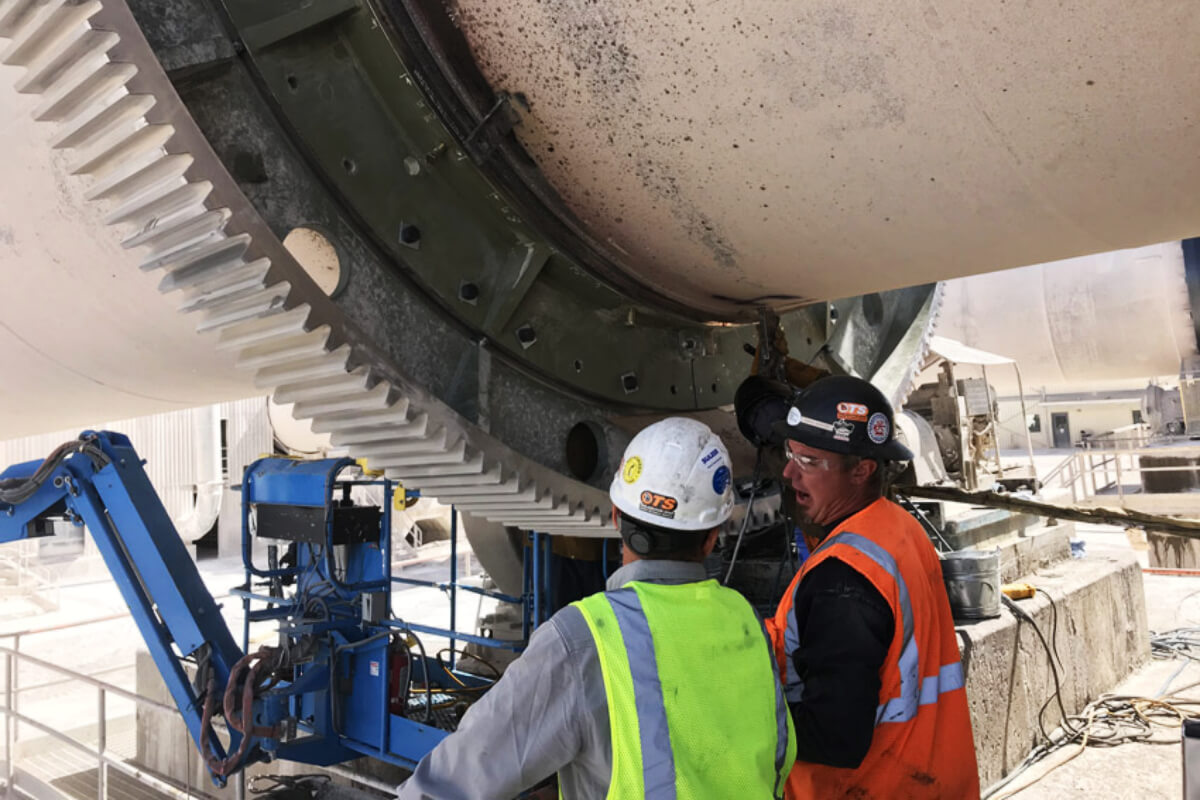 Key Results
The new girth gear and pinions are expected to operate as needed for decades with proper maintenance.
"Few gear solutions providers have the breadth of capabilities like Philadelphia Gear and Standard Machine," Pratt says. "We were able to utilize our Timken Power Systems network to leverage our collective expertise and offer this customer a cost-effective option for replacing the entire kiln gear drive – and worked through COVID-related challenges to deliver a total solution in just one year."