DISCOVER WORLD-CLASS GEARBOX REPAIR FROM PHILADELPHIA GEAR
ANY GEARBOX BRAND. ANY TIME.
WE SERVICE EVERY GEARBOX BRAND
Allen Gear
Amarillo
BHS-Voith
Black Clawson
Brad Foote
David Brown
John Brown
Chemineer
Cleveland
Delaval Steam Turbine*
D.O. James
Elliott
Falk
Farrell
Flender
Flender-Graffenstaden
Foote Jones
General Electric
Hamilton Gear*
Hansen
Hitachi
Horsburgh & Scott
Lightnin
Link-Belt
Lufkin
Maag
Marley
Mitsubishi
Nuttal
Philadelphia Gear*
Philadelphia Mixers
Renk
Siemens
Standard Machine*
Sumitomo
Thyssen
WesTech*
Western Gear*
Westinghouse

*Philadelphia Gear, WesTech, Western Gear, Delaval Steam Turbine, Standard Machine, and Hamilton Gear are all registered trademarks of The Timken Company or its affiliates.
MINIMIZE DOWNTIME WITH EMERGENCY OVERHAUL SERVICES

At Philadelphia Gear, we understand how critical an equipment failure can be for your business. That's why our service team is available 24/7 to help keep your operations running at peak efficiency.


How it works

1

Reach out

2

Initial Inspection

3

Disassembly and cleaning

4

Assembly and testing

5

Painting, preserving, and shipment

6

Rest easy

1

Reach out

With 24/7 service capabilities, our team is standing by and ready to help with your toughest gearbox challenges. Contact our team today with photos of your set to get the process started.

2

Initial Inspection

Onsite or in our facilities, our expert team of specialists will inspect your unit to determine the root cause of the failure. After our teams inspection is over, we'll provide a detailed report with images.

3

Disassembly and cleaning

Our team takes apart and cleans the unit, and schedules manufacturing for replacement parts. For uprating, we'll make necessary changes and incorporate them into the manufacturing process.

4

Assembly and testing

Once the components are complete, we reassemble and rigorously test the gearbox, measuring endplay, tooth contact and backlash, temperature, sound, vibration levels, and more.

5

Painting, preserving, and shipment

After the gearbox is reassembled and throughly tested, we epoxy paint and preserve the unit for storage. Once dried and preserved, we will send your gearbox along to you with documentation to keep it running smoothly for years to come.

6

Rest easy

All overhauls performed at our service and manufacturing centers are backed by a best-in-industry three-year warranty. Should any issues arise with your equipment, reach out to our expert service team to get back up and running quickly.
EXTEND THE LIFE OF YOUR EQUIPMENT WITH GEARBOX UPGRADES
Gain greater confidence in your gears with our full selection of upgrade services.
Gearing upgrades

Grinding to achieve better tooth geometry
AGMA- and API-quality standards
Metal-hardening services ranging from through-hardening to case hardening, including nitriding and carburizing

Lubrication upgrades

Addition of oil coolers (water or air)
Splash lubrication replacement or augmentation, with addition of external lube system
Shift to duplex filtration so unit can be serviced while operating
Upgrade from lips seals to face seals
Install CORE® ferrous metal filtration system

Bearing upgrades

Speed and load condition analysis to ensure proper selection
Closer tolerance rolling element bearings to extend life
Minimize vibration and operating temperatures

Smart add-ons

Diagnostic instrumentation that warns against pending failures
Stability-enhancing reinforced housing
User-friendly oil filtration systems
And more
WE WORK HARDER TO DO IT RIGHT.
Unlike other gearbox companies, we don't cut corners with a cookie-cutter approach. Instead, we reverse engineer every gearbox or component to exact OEM standards, taking your specific needs into account.
Our experts are trained in gearbox failure root cause analysis. We take the time to provide full disassembly and cleaning, inspection and measurement, engineering evaluation and recommendations, and gearbox repair and spin testing.
That's why Philadelphia Gear is your first choice for long-term reliability — for products from Philadelphia Gear and any other brand.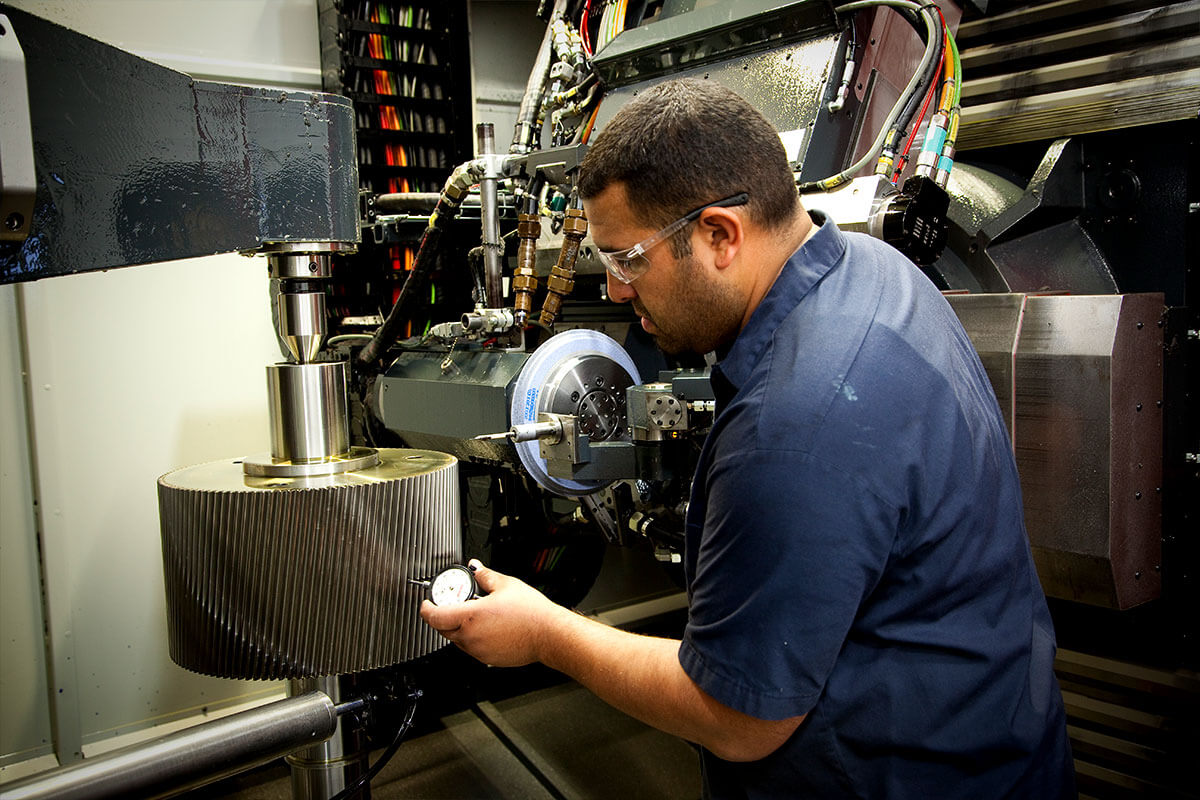 DON'T PUT YOUR OPERATIONS AT UNNECESSARY RISK. CONTACT PHILADELPHIA GEAR TODAY.

Our service team is standing by to help with your gearbox needs.

Call 800-766-5120 to get started or contact your regional representative directly by clicking the link below.

Find your regional service center